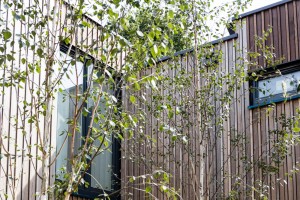 After launching Brimstone – our new range of thermally modified British hardwoods – at EcoBuild in March we have a great deal of attention from the architectural and self-build communities. Clearly the combination of superior performance, competitive pricing and local sourcing has struck a chord. This doesn't come as a surprise as most of the visitors to our stand at Ecobuild were very interested in Brimstone and its benefits.
Brimstone has started appearing in specifications all over the country and the first projects are now reaching completion. We have been sending out a great many samples and demand from architectural practices for our CPD has been unprecedented.
Exposure in the trade press has been very encouraging and we are delighted to be recognised by organisations such as the Alliance for Sustainable Building Products (ASBP), which chose Brimstone as its Product of the Month in March.
2016 continues to be a positive first year for Brimstone as we learn that Brimstone has won the TTJ Timber Innovation Award 2016: Innovative Product Development. This award is sponsored and judged by TRADA and the application process included a written submission as well as a presentation to a panel of judges.
While this is a success for Vastern Timber team behind Brimstone, it is the wider positive impact on the broadleaf woodlands of England and Wales that really excites us. In absence of any meaningful grants and poor demand for species other than oak, British woodland owners need to catch a break. Brimstone provides a huge opportunity to convert underused white hardwood species including ash, poplar and sycamore into products of the future, while stimulating demand and incentivising woodland management and replanting.
It sounds simplistic, but specifying and using Brimstone wood will help to improve the fortunes of our native woodlands.
Brimstone offers superior performance and quality at a competitive price and is at least as good as imported thermally modified products. However, while all timber products can claim to be sustainable, it is the question about the degree to which they are sustainable which needs to be asked.
To answer this question we need to look at issues such as the local sourcing of raw timber, and the carbon footprint of transport. English and Welsh woodlands are responsibly well managed. We can't guarantee foreign woodlands are. And we know that buy supporting domestic woodlands we are supporting local communities that rely on them. Plus, the carbon footprint created by transport is less than that of imported timber.
These are the questions and answers that are driving uptake and interest in Brimstone, and we are proud that we have developed a product range that delivers.