The reaction to the sixth film of our series has been very positive so far. It's been viewed over 3000 times across Youtube and Facebook, and we've had some really great feedback. Thank you.
I'm hosting an online discussion and Q&A session at 3pm on Sunday, 22nd November, with Doug King-Smith. Click here to watch: https://www.youtube.com/watch?v=hMQXf8-fkuc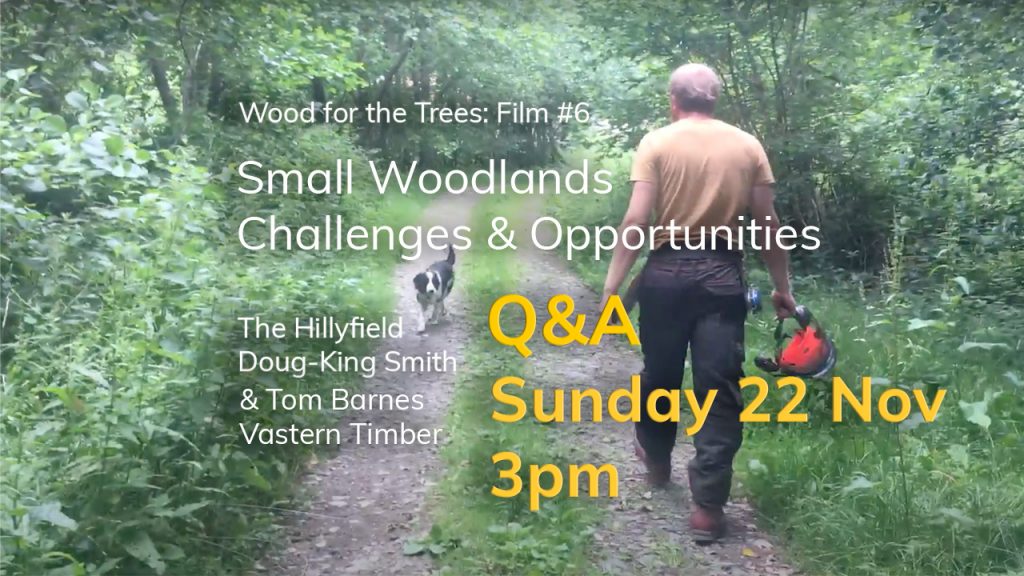 Strangely, this will be the first time I've actually spoken to Doug directly, as our producer Charlotte shot the footage for film 6 at Hillyfield earlier this autumn. This discussion will be live on Facebook and Youtube, and available here on my blog.
To enter your questions, get in touch with me and my team at 'Wood For The Trees' on YouTube, on the Vastern Timber Facebook page, or you can reach us on Twitter, Instagram or LinkedIn to join the discussion.
Some of the comments show that this film has struck a chord, and we'll be discussing some of these during the Q&A.
"Well Done Tom, that succinctly puts together the issues of small woodland management. All you have to do now is get it on the political map, good luck with that! "
"Small woodland owner here and this spoke to me. I've owned my 3 acre wood for 4 years and got nowhere. The law is vague and impenetrable, planning is too constrained, funding schemes are opaque, and climate change and the pests and disease spread that are driven by it form a ticking time bomb … It's a shame because it means plans like the national forest can't work under present conditions because of the obstacles that prevent forestry from being a sustainable industry outside of industrial timber production. My personal feeling is that forest gardening is a beautiful, prosaic solution to the jobs/food security/carbon capture/landscape and environment conundrum we all face but there's almost no incentive or help to move woodlands in that direction."
"Great to see this film highlighting @thehillyfield's work. With the right support and obstacles out the way, small woods can provide diverse livelihoods as well as great hands on volunteering, apprenticing and education opportunities" 
"It would be fair to say the future of Britain's forests would be a lot better with more Dougs in it" says @TomBarnesWood Although Doug is in Dartmoor, a world away from the crofting counties, in a practical sense @dougkingsmith is a woodland crofter. The film poses lots of important questions & really resonates with woodland crofts, indeed it could almost be a manifesto for them. Followers may recall us highlighting @thehillyfield story before. We're lucky to have @scotgov support for #woodlandcrofts! This is a great wee film. @WoodlandCrofts
Watch film six of our series below:
Find out more about this film in my previous blog post.