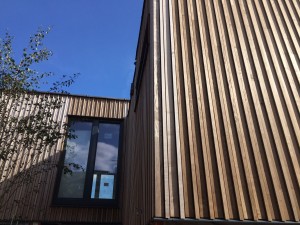 Although only launched in March 2016, Brimstone thermally modified hardwood is already making a mark after receiving the award for Innovative Product Development at the TTJ Timber Innovation Awards 2016.
Developed by Vastern Timber, Brimstone is the first commercially available thermally modified British timber, offering specifiers and designers all the benefits of thermal modification, but with the superior sustainability credentials of locally grown timber. Sourced exclusively from English and Welsh woodlands, the Brimstone range is ideal for cladding, decking, external joinery and furniture, and includes thermally modified British hardwoods including ash, sycamore and poplar.
The Brimstone range represents new levels of sustainability for specifiers interested in modified timber products, as the process does not rely on impregnating the timber with chemicals. Also, the development of Brimstone creates value for our native woodlands.
The principal of local sourcing and the wider positive impact on the broadleaf woodlands of England and Wales has been a central driver for development of the range. Brimstone provides a huge opportunity to convert underused white hardwood species including ash, poplar and sycamore into products of the future, while stimulating demand and incentivising woodland management and replanting
"We are delighted to win this award, especially as it comes so soon into the life of the Brimstone product," explains Tom Barnes, Managing Director at Vastern Timber. "There was a great deal of interest when we launched Brimstone at Ecobuild and people were obviously impressed with the product and the sustainability benefits. We have had a great deal of attention from the architectural and self-build communities and clearly the combination of superior performance, competitive pricing and local sourcing has struck a chord. This doesn't come as a surprise as provenance and sustainability continues to be important issues."
The Innovative Product Development award sponsored by TRADA is given to the product that delivers a new and superior solution that meets new requirements, unarticulated needs, or existing market needs, and which can be defined as something original and, as consequence, new that 'breaks into' the market.
Brimstone wood was chosen as 'Product of the month' by the Alliance for Sustainable Building Products (ASBP) in March. The ASBP stated 'the chemical-free process and the use of home-grown timber are the two key features that make the Brimstone range a worthy candidate for our Featured Product of the Month.'
Vastern Timber was announced as winner at the 20th anniversary TTJ Awards dinner on 30th September 2016 at The Brewery (Barbican) in London.